Sprint Air
Quite simply the ultimate in lightweight wireless equine DR systems.
The new Sprint Air from Sound comprises a battery powered autosensing Canon panel and a MacBook Pro with Retina high resolution display.

That is it. Two components and not a single cable in sight.
The new Canon wireless DR panel also has double the sensitivity of conventional panels, so your exposure can now be halved.
Stunning images, half the radiation dose, no cables and incredibly light weight. Is there anything else you need?
Call us on 01844 344 911 for your own on site demonstration.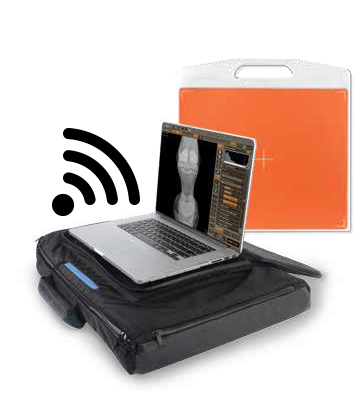 Sprint Air
Sprint Air, Powered by Canon
The Sprint Air is the very latest class leading lightweight wireless DR system from Sound, global leaders in veterinary DR systems.

With its Retina-screened Macbook Pro and wireless Canon DR panel packing neatly into its nylon ripstop protective case the Sprint Air can be set up and running in a couple of minutes.
It can be used with any x-ray generator available on site thanks to the latest autosense panel technology.
Offering double the sensitivity of regular DR panels, and 3 seconds between exposures, the Canon wireless panelled Sprint Air enables on site examinations to be made with our lightweight portable generators that were previously considered impossible.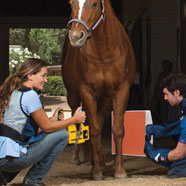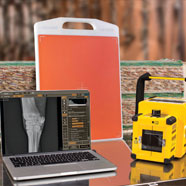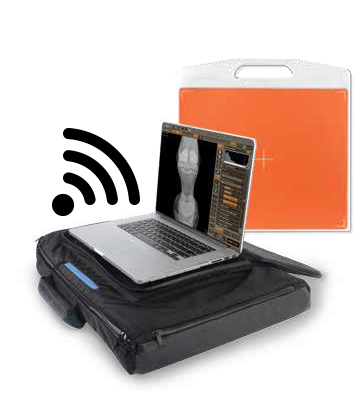 Sprint Air
Our standard package includes:
Active sensor panel area: 28x36cm, (optionally 35x43cm)
Panel pixel size: 125 micron
Sensor panel weight: 2.3kg (35x43cm version 3.2kg)
Complete system weight:  8.0kg (35x43cm version 8.9kg)
Fully charged battery imaging time:  4 hours (2 batteries supplied)
Image acquisition time: 3 seconds
Auto sensing panel, can be used with any x-ray generator.
Laptop: Wireless Macbook Pro with Retina display
12 month warranty