About Veterinary Xrays
Veterinary X-rays was formed in 1960.
Pat Dorrell, a radiographer, who worked for the x-ray division of what became GEC, recognised a growing trend for vets to have an in house x-ray facility. He suggested the idea for a division of GEC, but the company considered that it was far too small a market for GEC to be concerned with.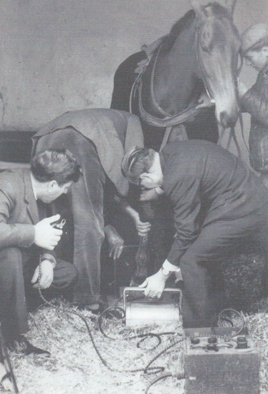 Arkle with early Veterinary X-rays generator. 1967
Seizing the opportunity, he decided to go it alone and formed Veterinary X-rays and thus became the first company in the UK to provide specifically for this growing new market sector.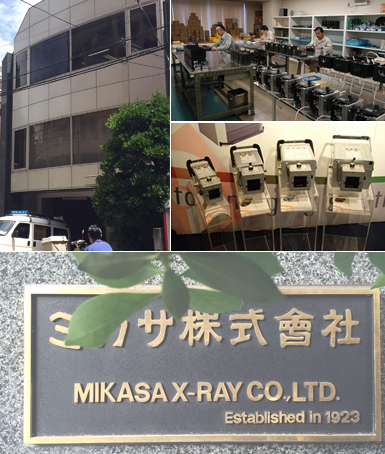 Mikasa Technical Centre, Tokyo
Working from characterful premises in Seer Green in Buckinghamshire, Veterinary X-rays took on its first manufacturer agency in 1978, that of Mikasa X-ray of Tokyo. This manufacturer of the most technically advanced and reliable x-ray generators simply changed the UK and global veterinary market completely. New x-ray generators were now both affordable and specifically tailored to the veterinary profession rather than adapted medical equipment as had been the case historically.
Pat Dorrell, Tony Wade and an interested BEVA delegate
Products such as the Mighty Atom and Atom 90 x-ray units became virtually standard issue for a huge number of international veterinary practices, such was their popularity.
Pats son Steve joined the company in 1985, and Veterinary X-rays continued to grow, launching the then unknown Fuji x-ray film to the profession, and providing a more structured complete x-ray service to customers.
In 1997, Veterinary X-rays were delighted to be given the opportunity to buy out one of their long time suppliers, a medical x-ray company, Everything X-ray Ltd, who were and are the number one name in medical x-ray accessories. Started in 1910, this fantastic company was moved from its premises in Watford to join Veterinary X-rays in Seer Green.
Bursting at the seams by 2002, a move to new premises was inevitable. The purchase and move to our new facility in High Wycombe and was completed by the end of that year giving us much greater warehouse, workshop and office space as well as easy motorway access.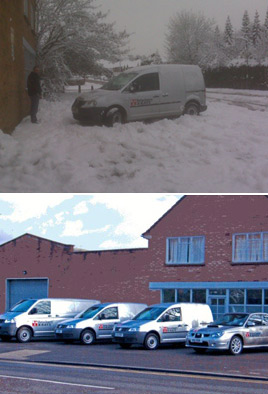 High Wycombe premises 2002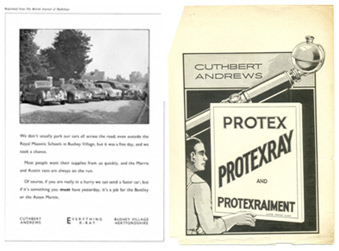 Everything X-ray adverts 1950's
Veterinary X-rays continued to grow throughout the following years with the beginning of the digital age starting to appear with the installation of the very first CR system to a veterinary practice in the UK at a price that was simply unheard of at the time. It was becoming obvious that the days of film and chemistry were numbered and that digital imaging was obviously the way ahead.
A chance meeting with an engineer who needed some help with integrating one of our generators with a cutting edge portable DR system led to our adding the fantastic Eklin DR agency to our digital product range.
In March 2010, with the company increasingly focused on the digital imaging side of the market, and with space rapidly running out, we purchased larger premises again in the far more rural surroundings of Princes Risborough. As well as offering significantly more space, the move provided a much more rural and pleasant working environment for all members of the growing company.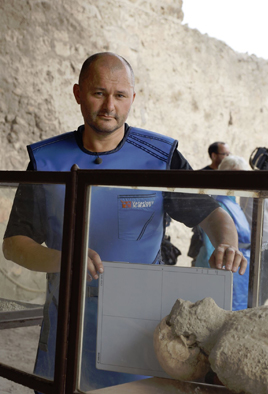 On location with the BBC in Pompeii
In July 2010, Veterinary X-rays acquired the exclusive UK distributorship for Champion Photochemistry of Malaysia which had been a very long time supplier of x-ray chemistry to both Veterinary X-rays and Everything X-ray. The change to digital had seen a decline in their fortunes, and we felt that we could provide a safe and financially secure basis for their regrowth into other areas of their chosen markets.

Due to the overall size of the three companies, for clarity we now reformed the group of companies to create a single entity VXR Imaging Ltd, with three separate divisions for Veterinary X-rays, Everything X-ray and Champion Distribution.

In May 2011 Pat Dorrell, the founder of Veterinary X-rays died at the age of 93. He was involved with the company throughout his long life and never lost his enthusiasm for all things Veterinary X-ray. He was extremely proud that his original idea had evolved to form the company that it is today.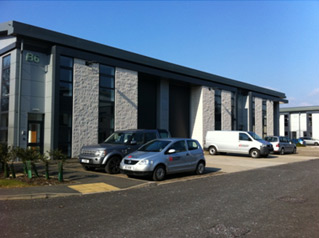 Princes Risborough premises 2013
Today, in 2015, Veterinary X-rays is delighted to still have its portable x-ray units exclusively provided by Mikasa X-ray of Tokyo, where we now deal with the granddaughter of the founder of the company. We have the exclusive UK agency for Fuji for the supply and service of both digital CR systems as well as the supply of x-ray film to the veterinary profession.

Following the merger of DR rivals Sound and Eklin in 2011, we were absolutely delighted to be appointed the sole UK distributor for the market leading new Sound product range of portable and small animal DR systems, supplying and supporting the complete range of systems.

With x-ray equipment installed at thousands of veterinary locations around the world, from the Antarctic to Dubai, our simple stated aim since 1960 has been to provide the profession with the best possible products allied to the best possible service, the same still holds true today.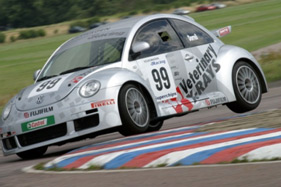 Very poor driving!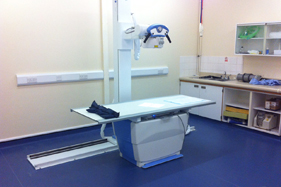 Royal Veterinary College installation 2014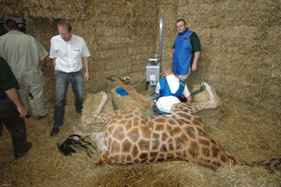 London Zoo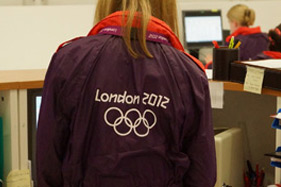 London Olympics 2012