The compact Fuji Prima II is one of the most popular CR systems in the veterinary market today with hundreds in daily use throughout the UK.
Fitting neatly into the smallest of surgeries, the Fuji Prima II has features and reliability that only Fuji, as the originators of computed radiography, can offer.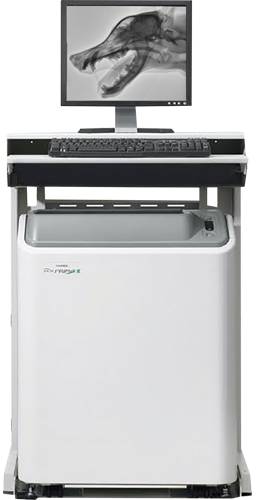 The UKs most popular CR system from Fuji
On screen image in less than 20 seconds
Processing capacity up to 73 imaging plates/hr
Superior Fuji image quality and reliability
Easy integration into your PACS and practice management systems
Simple to use fully featured veterinary specific software
Imaging plate sizes from 18x24cm, 24x30cm and 35x43cm as well as flexible intra oral
Use with your current x-ray generator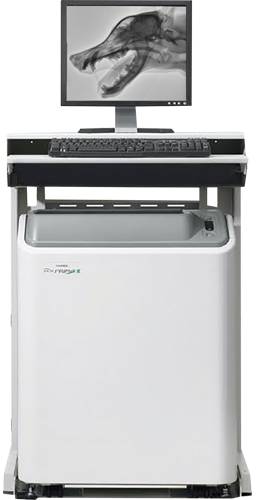 Our standard package includes:
Our standard package includes absolutely everything you need in a digital imaging system, from delivery and installation through to training and a comprehensive 12 month warranty. We even include the first years' service.
Ongoing support is provided by our own team of Fuji trained in-house engineers.
For your own in surgery demonstration of what Prima II can do for you, just contact us on 01844 344 911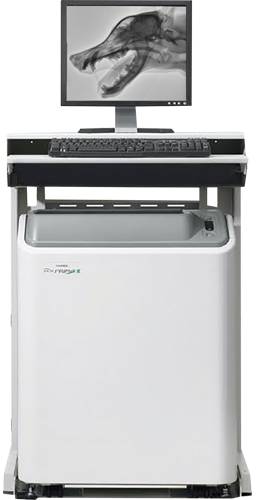 Imaging Plate Sizes Available
18x24cm
24x30cm
35x43cm
Processing Capacity
Up to 73 IPs/hr.
Reading Specification
10 pixels /mm, 5 pixels/mm
Network
10 Base T/100 Base TX
Dimensions (WxDxH)
600x400x780mm (24"x16"x31")
Weight
70kg (155lbs.)
Power Supply Conditions
Single phase 50-60Hz
AC120-240V ±10% 1.9A (max)