Wheelhouse Veterinary Centre go DR with Veterinary X-rays
---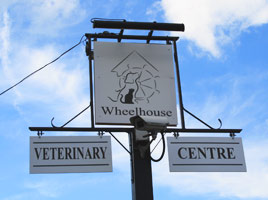 A 16th century building in Buckinghamshire once frequented by Oliver Cromwell now houses one of the 21st century's most advanced veterinary digital imaging system in the UK.
The new Wheelhouse Veterinary Centre surgery, in Chalfont St Giles, is housed in one of the oldest buildings in the area, with parts dating from the 16th century. Oliver Cromwell was a visitor to the former inn, and is rumoured to have camped in the grounds after the Battle of Aylesbury in 1642.
Understandably, it has taken months of careful and considered work to transform the local landmark building into one of the most advanced veterinary surgeries in the area.
When it came to the x-ray facility, Anna Wardle and Charles Winslade, owners of Wheelhouse Vets were adamant that they wanted the absolute best and decided to install the very latest Sound TruDR small animal DR system from Veterinary X-rays. Coupled to a ceiling mounted Ultrapower 200 anatomically programmed generator, the practice now has an x-ray facility second to none in a truly unique and historic building.

The new Wheelhouse Veterinary Centre surgery, in Chalfont St Giles


Related Products
Sound TruDR
UltraPower 200
Spacetrack Ceiling Mount
---